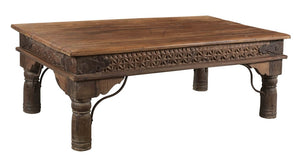 Here's another coffee table from our vintage collection that will have your heart! It's perfect for a cup of coffee after a tiring day or for playing board games with the family on the weekend!

It's gorgeous side design and antique finish are absolute eye catchers!
Size -  L 120 * W 65 * H 45 cm
Material - Mango Wood
Finish - Walnut
*Currently out of stock, available on Pre/Custom Order - Lead Time 12 - 16 weeks*
Products Care - Wipe up spills immediately with a soft cloth. Avoid using cleaning products as they may damage the sensitive bone surface. Do not place hot items directly on top. This piece is intended for indoor use
"We do the customization as per your color, size and pattern. For special order, please contact us via mail."
Note - Pictures for representation purpose only, actual item may vary slightly in color.