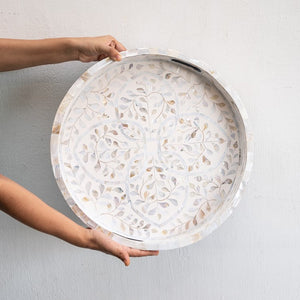 Our stylish Floral mop inlay round tray bring eclectic appeal to your vanity. Frame your favorite objects in style. 
Dimensions - Dia 35 x 5  cms

Finish - MOP with White color Resin
Product Care - Wipe up spills immediately with a soft cloth. Avoid using cleaning products as they may damage the sensitive bone surface.

"We do the customization as per your color, size and pattern. For special order, please contact us via mail."