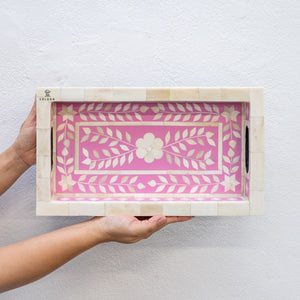 Whether it's used to serve or used as a vanity tray or as a decorative tray on any counter top, a bone inlay tray never fails to come through!                             
Dimensions - L 20 x W 36 x H 5 cm
Finish - Natural Bone with Pink Resin
 Products Care - Wipe up spills immediately with a soft cloth. Avoid using cleaning products as they may damage the sensitive bone surface. Do not place hot items directly on top. This piece is intended for indoor use.
"We do customization as per your color, size and pattern. For special order, please contact us via mail.
*Note - Please note that the size and color of the product may vary slightly as this is a handcrafted unit.